Rajasthan is synonymous with history and heritage. It is truly among the most preferred tourist destinations in India. With a number of palaces and forts, this is always a great place to visit. Anyone who has stayed at a Luxury Hotel in Rajasthan will vouch for its amazing architecture, royal heritage, and the feeling of absolute opulence. Most, if not all, of these hotels, were Palaces of erstwhile rulers of different kingdoms, which have later been converted into Hotels. This idea allowed the state to boost the tourism industry. It also became a means to provide several jobs while earning handsome revenue at the same time.
Explore The Luxury Hotel In Rajasthan To Spend the Quality Time!
We have decided to make a proper list of the Best Luxury Hotel in Rajasthan, which you should definitely check out if you get a chance to visit that part of the world.
Hilton Hotel In The Pink City
Hilton Jaipur is one of the few luxury hotels that is both massive in size and equally beautiful. Besides being beautiful, the hotel is located right in the centre of the city and is quite close to the railway station. Every nook and corner of this property is a testament. This is also perfect for social gatherings for up to 700 guests. The dining space is a partially open-air area that lights up during the night. Moreover, It's the best place for spending an amazing vacation with your kids to take a break from a hectic routine.
Address: Mangalam GeejGarh House, 42, Hawa Sadak, Jaipur, Rajasthan 302006
Phone: 0141 417 0000
Roop Niwas Kothi, Nawalgarh
The Roop Niwas Kothi Hotel is one of the best Luxury Hotel in this state that lies right in the middle of the route between the cities of Bikaner and Jaipur. It is located in the former princely estate of Nawalgarh. This magnificent work of Rajasthani Architecture was built almost 300 years ago in 1737. Almost two centuries later, it was given a complete makeover in 1928 by the royal scion Rawal Madan Singh. Later on, in 1981, this Palace Hotel was opened for guests both from India and abroad. You also have the option of exploring the nearby areas of the Shekhawati region, which lies right outside the hotel, on a horseback, or buy local souvenirs at the town bazaar.
Address: Kothi Rd, Shekhawati, Jhunjhunu District, Nawalgarh, Rajasthan 333042
Phone: 01594 222 008
Trident Hotel in Jaipur
Want to feel the charm of the beautiful city? If yes, you must book one of the ranked hotels in Jaipur. Trident is located near the famous amber fort and also offers mesmerizing views of Jal Mahal and a stunning lake. Trident offers modern amenities with proper space and airy rooms. Book your room and enjoy a landscaped garden with a soothing view that will perfectly retreat you. What are you waiting for? Choose the best and enjoy the leisure hotel and create memories that will last forever.
Address: Fort Road, Jal Mahal, Amer, Jaipur, Rajasthan 302002
Phone: 0141 267 0101
The Fern Residency
Located in the city centre of Jaipur, the fern residency is best for leisure and business travellers. It is well known not for its fabulous accommodation facilities and an equally splendid dining hall. Get a taste of the Royal Indian taste at a multicuisine restaurant with the best services. Considering how many entertaining things are there to do here, one thing that we are sure of is that you will not get bored. You will also find a large banquet hall and a resto-bar. This is perhaps why this hotel is always in demand for holding wedding celebrations and social gatherings.
Address: A-13, Govind Marg, Near Pink Square Mall, Janata Colony, Jaipur, Rajasthan 302004
Phone: 0141 661 1100
Radisson, Udaipur
Well, if you are looking for a family-friendly hotel, the Radisson hotel must be on the top of the list. The rooms exude the old-world charm, which is a rarity these days. Radisson Udaipur is also equipped with all the modern amenities that you will expect from a luxury hotel. You will feel like a home away from home with many facilities like free wifi, ac, and room service. Another important point contributing to its appreciation is the free parking. Let's make your trip gratifying by enjoying the pool and relax! If you are getting a chance to visit this luxurious hotel in Rajasthan, do check out the Ahar Cenotaphs that is within a walking distance.
Address: Lakecity Mall, Ashok Nagar Main Rd, Udaipur, Rajasthan 313001
Phone: 0294 660 3333
Lake Pichola Hotel

Lake Pichola Hotel is a Luxury Hotel that also has multiple suites with its own fireplaces and high-ceiling tents. This place has lush green forests with majestic palaces. It is the perfect hotel on the western banks of Pichola lake. You can have a 360 view at a stunning rooftop and also enjoy quality time at an elegant restaurant, Upre. Every room has lake-facing balconies, which makes this place more superior.
Address: Ambrai Road, Panch Devri Marg, Outside Chandpole, Udaipur, Rajasthan 313001
Phone: 063763 64840
Hotel Lakend, Udaipur
A Luxury Hotel with everything you are looking for from a trip to Rajasthan!!!. Located just on the Fateh Sagar Lake with the stunning view at this Palace. What else you are looking for? Amazing sightseeing, sprawling lawns, the infinity pool, and much more to explore. Be it a family vacation or a honeymoon trip, this place is a perfect destination for you.
Address: Alkapuri. Fatehsagar lakeshore, Ambamata, Udaipur, Rajasthan 313001
Phone: 0294 243 1401
Taj Aravali resort, Udaipur
Taj Aravali Resort is spread on 27 acres with beautiful decor elements and furnishings that are inspired by Mewar's world-class equestrian heritage. It has added a local flavour to the luxurious resort. You can spend your time cooling off at the indoor swimming pool, have some drinks, have a look at the beautiful peacocks prancing around in the courtyards, or explore the sights and scenes near the resort. With all these facilities, surely you would include this place in the list of best Luxury Hotels in the country, wouldn't you?
Address: 1, Kheemach Kheda, Village: Bhujra, Tehsil: Girwa Near Kodiyat, Forest Chowki, Udaipur, Rajasthan 313031
Phone: 0294 268 1000
Clarks Amer
This Luxury Hotel is truly world-famous. It is seen as one of the few romantic hotels around the globe. A luxurious living and charm of the traditions of India enhance the whole ambience at least by a million times. This hotel is a perfect mix of the latest facilities and historical settings, making it among the most liked hotels around the state of Rajasthan.
Address: Jawahar Lal Nehru Marg, near Jaipur Airport, Lal Bahadur Nagar, Chandrakala Colony, Durgapura, Jaipur, Rajasthan 302018
Phone: 0141 255 0616
Tree Of Life Resort
This Luxury Hotel is one of the most popular destinations around the country. The Tree Of Life is undoubtedly a honeymoon paradise. It is known for its Rajasthani hospitality, and food. Along with the love of tourists, it also got listed as the topmost searched hotels online. It is built in 2010, a beautiful and peaceful place away from the hustle of city life.
Address: Kacherwala, Kukas, Rajasthan 302028
Phone: 090152 42000
Oberoi Udaivilas, Udaipur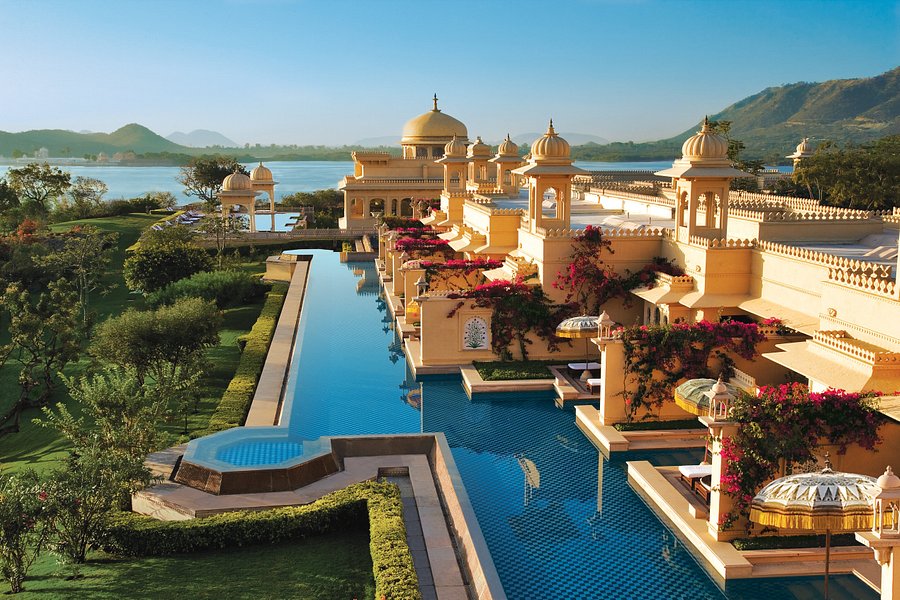 Oberoi Udaivilas standing neck high on the banks of Lake Pichola. It is known for its grand architecture while also being a favourite spot for several destination weddings. It offers a picturesque view of the lake, which truly is magnificent. This place has received rave reviews for its hospitality and other facilities by several local and international tourists who have rated it as one of the best resorts in the world.
Address: Badi-Gorela-Mulla Talai Rd around Haridas Ji Ki Magri, Pichola, Udaipur.
Phone: 0294 243 3300
Raas Hotel
RAAS is one of the famous chains of hotels that are renowned for not just its architecture, but for its top-class hospitality. Being one of the famous boutique hotels in Rajasthan, this hotel has perfectly integrated the modern and ancient architecture in the sink. Right from the stunning entry to the exotic pool area, this hotel has set the bar quite high for others. They have a variety of rooms like a Garden room, luxury rooms, heritage rooms, deluxe rooms, etc, to choose from.
Address: Tunwar Ji ka Jhalra, Makrana Mohalla, Gulab Sagar Rd, Sagar, Jodhpur, Rajasthan 342001
Phone: 91 291 263 6455
Regenta Resort Bharatpur
Regenta Resort is located in a very unique location of its own. It is easily accessible from major transportation services. It is an amazing site that was turned into a Luxury Hotel with lush green lawns and all other modern amenities, which make it a preferred option for destination weddings.
Address: NH-11, Fatehpur Sikri Rd, Nagla Gopal Rural, Rajasthan 321001
Phone: 074120 84120
Conclusion
This might sound surprising, but some of the best Luxury Hotel in Rajasthan are not as expensive as you may think. Compared to the luxurious stay that is on offer, getting a room at these prices is nothing short of a bargain. Visitors are always spoilt for choice whenever they decide to go for a vacation here.
Everyone craves for that Luxury Holiday experience to get away from the hustle and bustle of their everyday lives. And this is exactly what these Palace Hotels offer. We hope that this list helps you know more about the best options available to select a Luxury Hotel and enjoy the famous Rajasthani hospitality.