Canopy bed is the dream of everyone who loves to live luxuriously. With its vibe full of romance, these beds are designed to enhance the beauty of the bedroom and with the layers of fabric draped around, the privacy also increases. So, if you are looking to add a touch of European charm to your bedroom and boost the romantic ambiance, these kinds of beds are best for you. These beds are in fact, great if you are looking to add some warmth to your bedroom. To spice up your bedroom even further than it already is, you can opt for Wall sticker quotes.

Reasons Why You Should Choose Canopy Bed

Did you know that these beds are also known as "Statement pieces". The simple reason for that is – its impact. Once you add the bed in the room you will not be able to take your eyes off it on entering the room. Besides being stylish, this bed is also known for its durability & sturdiness. In addition to adding the spark and warmth to the bedroom, there are many other reasons why you should choose beds with canopy.

If we talk about history, these beds reflect amazing old-luxury. With the European touch, this idea has stretched back to the middle ages. Earlier it was a common occurrence for lords and ladies to share a room with servants. In that situation, the privacy offered by these beds with canopy was a savior. This makes the idea of these beds even more practical.

If you are among the people who are bored with the usual styles, these kinds of beds are the best for you. These kinds of beds make a statement and make your bedroom even more stunning and romantic. So, if you are looking for a modern touch in your bedroom, you have come to the right place.

Best Canopy Bed Options For Your Bedroom

Mentioned below is the list of best canopy style beds available in the market that would be fit for your bedroom.

1. Sojourn Bed | Queen Size

You must have heard that these kinds of beds with canopy usually look great in large bedrooms. Unlike these misconceptions, these beds can also fit well in small rooms. Choosing the right frame – metal, wood, and tapers is the key to fitting these beds in a small room. This Sojourn Queen bed is perfect for small spaces, thanks to the color & frame material.

2. Inspire Q Solivita Metal Canopy Bed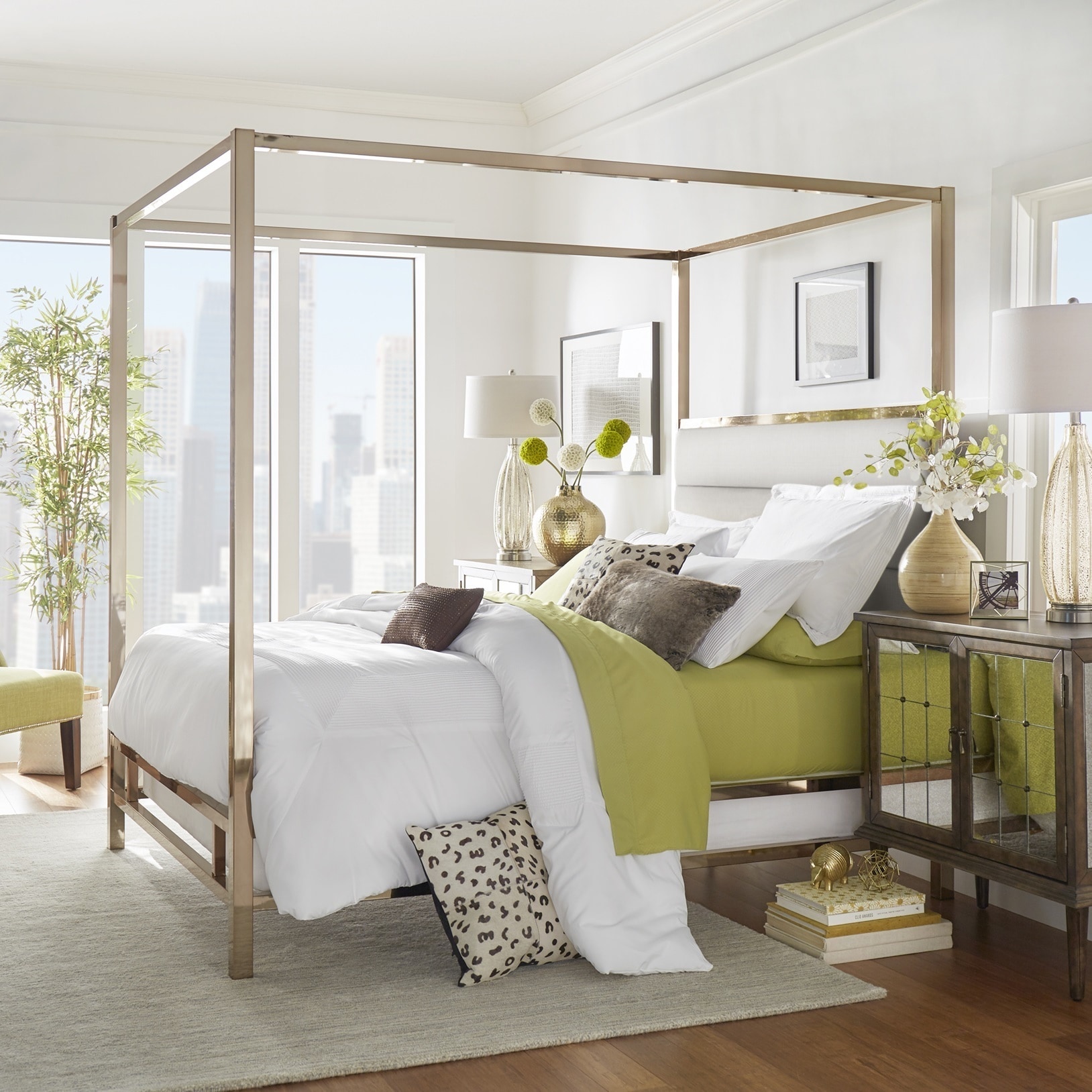 Looking for a canopy style bed? If yes, this spacious queen size bed constructed with the durable metal makes a perfect fit. The modern black finish of nickel on the bed makes it even more attractive choice of bed. This stunning bed makes a perfect fit for a medium size bedroom. This is a bed that comes with a button tufted headboard. Not a fan of black? This bed is also available in two other colors – dark grey linen and off-white linen.

3. Inspired Q Evie Chrome Bed With Canopy

In case you are in search of a contemporary bed with a canopy for your room, this Inspired Q Evie Chrome Bed is the best option for you. With a unique blend of modern trends, this bed is perfect for those who want to go with a modern yet timeless bed style. The shimmery metal finish and a stylish headboard adds to its appeal and makes it even a great option for people with great taste. This bed is available in 3 colors grey,off-white linen, and dark grey.

4. Zinus's Famous Metal Framed Bed

This industrial-style bed is designed using a strong metal. The design of the Zinus Metal framed bed also prevents your mattress from sagging. The best part about this metal framed bed is the space it has beneath it for storage. In addition to all these perks, the bed also comes with 5 years warranty.

5. Tips to buy a Canopy Style Bed

Once you have made up your mind to buy a bed with canopy, here are some tips that you must follow. Make sure you understand that all of these beds are not best for curtains. So, if you are going for a curtain look, you must consider going for the types that support them, and you can also have it painted by the highly experienced National Powder Coating Services. Below we are sharing some points you should note before buying canopy style beds.

Material of bed
Design of the bed
Curtains
Durability
Material of bed
There are many kinds of materials that are used in building a canopy style bed. Some of these materials include wrought iron, metal, mirrored, painted, fabric, and wood.  Where wood is the most traditional and widely adapted material people choose, there, materials like metal and wrought iron made using cast technologies casting industries are used for more sturdy beds. In addition to this, recently we have a new kind of beds – mirrored canopy style beds that usually reflect a more contemporary & modern look. So, while you are out looking for a canopy style bed, make sure you take material of the bed into consideration.

Design of the bed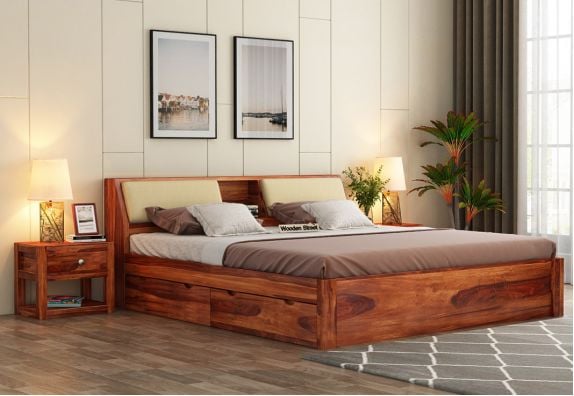 These beds come in four different styles – modern, romantic, classic, and gothic. Modern canopy style beds are free of the top covering with the strong rectangular structure, classic bed comes with ornate decor using deep wooden tones, gothic beds, however, reflect prominent use of fabric used in the Gothic era, and romantic designs are prominent in European culture.

Curtains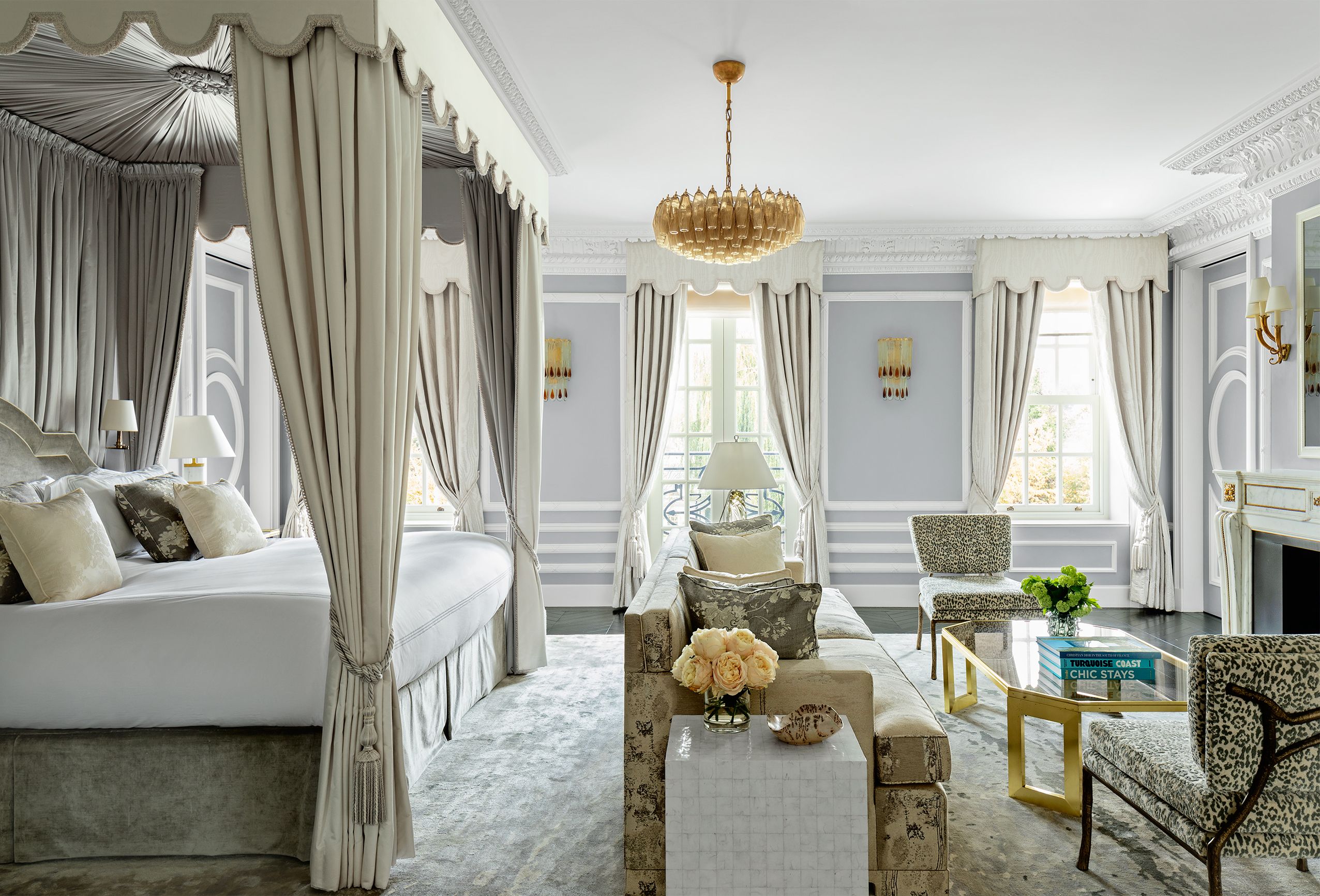 A canopy-style bed is incomplete without curtains. So while you are looking for the bed, you must check out the variety of curtains. Although, if you are not a big fan of curtains, you must not worry. There are many beds that need no curtains that you can go with.

Durability
If you are looking for a bed, make sure that you consider buying the ones that are best in durability and yet are stylish. The question is how can one check it? The durability of the bed depends on a few elements like material, the weight of the bed, and the style the bed is designed in.
Along with this, go to this link and see more Canopy bed

Final Words

In the end, we would say that it is a good idea for one to consider buying a canopy bed if you are bored of the old styles. Not just this, if you are looking to add a bit of romance the idea of canopy style beds will do that for you. So, hurry, go all out and buy a stunning bed for your bedroom and add on to the spark.
Visit this link,http://interiordesignsmagazine.com/bedroom/canopy-bed/